Something weird is happening around SLO. A massive colony of bacteria and yeast is spreading from High Street to Higuera, bubbling its way into coffee shops, restaurants—even the Thursday night Farmers' Market. No, this isn't a clip from the 1958 cult flick The Blob, but it could be. Run, don't walk, from … the kombucha! It creeps. It feeds. It lives inside you. It's utterly addicting.
click to enlarge
PHOTO BY HAYLEY THOMAS
TO A TEA: Jake Pritzlaff of Whalebird Kombucha measures fragrant black tea from Secret Garden Organic Herb Shop in SLO. With just the right ingredients and a 30-day ferment, this tea will transform into tart, refreshing kombucha full of probiotic health benefits.
"You don't have to be a yogi or go to festivals or be a hippie to enjoy a glass of kombucha," said Mike Durighello, co-founder of Whalebird Kombucha in San Luis Obispo (the company formerly known as Komplete Kombucha). "We want everyone under the sun to try it."
Fellow Whalebird business partner Jake Pritzlaff is all in on this mission. However, he said there is a misconception out there.
"People say, 'The first time you try kombucha, you don't like it.' It's our goal to make that not the case at all," he said. In fact, Pritzlaff was inspired to join with Durighello on his kombucha brewing quest thanks to a single factor: flavor. One sip of the fruity, funky Whalebird tea and he was hooked.
The same was true for Durighello, who started drinking commercial kombucha in college thanks to a recommendation from a surfer friend who swore by GT's Enlightened brand (Established in '95, it's basically the Budweiser of kombucha.).
"I thought that maybe the kombucha made my friend surf better," the sustainable agriculture grad said with a laugh. "I tried the mango flavor and it blew me away. I was drinking two a day and I noticed that they were really good for studying; they gave me mental clarity and curbed my appetite."
Although scientific proof isn't exactly concrete, you can't argue with personal experience. I didn't believe in kombucha's mystical powers until I tried it for myself. Now I, too, reach for the tea when I need a natural pick-me-up. I first encountered Whalebird at Kreuzberg. It was a hot afternoon and I ordered a fizzy cup of Ginger Sarsaparilla flavor because damn if that didn't sound good. 
My first slurp turned into a long chug. Before I knew it, the tart-sweet effervescent goodness was gone. I savored the slight vinegar tang, earthy kick, and lively bubbles dancing on my tongue. Sitting down with my laptop to tackle a deadline, I felt refreshed and surprisingly energized. 
click to enlarge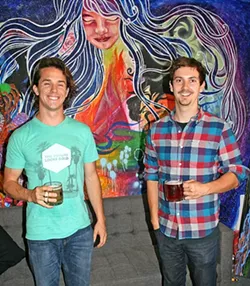 PHOTO BY HAYLEY THOMAS
RIDE THE WHALEBIRD: Mike Durighello (left) and Jake Pritzlaff of Whalebird Kombucha dream of a day when their locally made probiotic tea is as highly regarded (and consumed) as craft beer.
Little did I know, but millions of good-for-me bacteria had just taken up residence in my gut. The pleasurable jolt of caffeine didn't hurt, either.
I came relatively late to this party. These days, you can spot Whalebird Kombucha on tap everywhere from Bliss Café to Bowl'd to Pluto's to Kennedy Club Fitness. Currently, the guys feature five fresh flavors, including Jasmine Bliss, Hibiscus Rose, and Lavender Lemonade (tap handles will soon reflect the business's new name and quirky winged whale logo). 
Fermented, flavored with fruit, and finished to effervescent excellence, the drink is beloved by local soccer moms, techies, students, musicians, hairdressers, and granola munchers alike. 
"It's not too sour or too sweet," Durighello said. "It's this nice middle ground where the first time you try it, you will love it." Mission accomplished.
Next time you're at Thursday night Farmers' Market, see if you can spot the true believers. Hint: They're carrying freshly-filled glass growlers. Currently, you can pick up the goods at the farmers' market or stop by the team's production facility during re-fill hours. I toured the recently expanded 1600-square-foot warehouse on Empleo Street, adorned with the vivid, swirling artwork of Katharine Tompkin. The operation is currently brewing 800 gallons at a time and—just like their floor space—it, too, is slated to double.
BETTER (AND WAY BETTER FOR YOU) THAN POP: Try a range of Whalebird flavors on tap at Kreuzberg Coffee, High Street Deli, Bowl'd, Pluto's, KravaBowl, Bliss Café, Roxanne's, Spark Yoga, SLO Natural Foods Cooperative, Yoga Centre, Kennedy Club Fitness, Shine Café, and Bru. Also be sure to stop by SLO's Thursday Farmers' Market for a sample, pint, or growler. Keep your ears perked for a party and art show to be held at the Whalebird production facility, located at 3576 Empleo St., unit 1, in SLO. For more information, call 712-8442 or check out the business on Facebook.
"There is so much room for kombucha to grow here; we like to think of SLO as the perfect home base for what we're doing," Pritzlaff said. "There's a lot of fermentation culture here, around beer especially. Kombucha has always stayed separate from that, but we want it to be right up there with those guys."
Yes, Pritzlaff dreams of the day when a consumer might hold up a pint of kombucha and rattle off nerdy flavor profiles, mouth feel, and properties of the tea, just as one might do with a good craft beer. If you must know, Pritzlaff isn't afraid to mix Whalebird's Lavender Lemonade flavor with white wine. It's the logical next step in a process that could possibly even lead to a true alcoholic kombucha—something the local market has yet to see. A numbers and logistics guy, Pritzlaff got his MBA from Pacific University. Safe to say, his gears are constantly turning.
"We are really fixated on always changing and progressing. It's important to always be adapting, whether that means bringing on new flavors, events, or clients," Durighello said. "It's really key to us staying interested."
This has been true since the get-go. The ever-evolving business was formed some four years ago by Durighello, his pal Molly Helmer and mutual friend Alex Nardony. It all started with a humble Kickstarter fundraiser that brought in about $10,000. Those funds enabled the college students to purchase brewing equipment, health permits, kitchen rental, and insurance. 
The company founders may have shuffled around a bit, with some new team members coming on, but the goal is still the same: making high quality kombucha you love the very first time it hits your lips. This was no easy task, as Durighello said it took a long while to figure out the exact process.
While doing research for this story, I decided to make my own batch of kombcha. That meant I needed a "mother" SCOBY, whatever that was (I later found it means "symbiotic colony of bacteria and yeast.") I texted my friend Stormy Tee, purveyor of all things pickled, fermented, and DIY. Eagerly, I swung by his house. His son answered the door and silently handed me a plastic bag (the whole thing kind of felt like a drug deal). Inside the ziplock, I saw something that looked like a gelatinous urinal cake floating in a few inches of murky reddish water. I thought, "This is what makes that delicious drink I can't stop consuming at $4 a pop?" It was my first SCOBY. I fed it sugar, black tea, water, and vinegar, and then I left it alone.
As you now read this, my tea is still fermenting in a warm, quiet corner of my kitchen. Will it taste good in 30 days? Maybe. Will it taste like Whalebird's Ginger Sarsaparilla? No way in hell. Anyone can make kombucha, but it takes real gumption, skill, and passion to transform a blob of bacteria and yeast into a midday treat with the power to replace iced coffee.
"We want to see the day when instead of ordering an iced tea or a coke, people will say, 'You know what? I'll have a kombucha instead,'" Pritzlaff said. "And not just a yoga person. Anyone."
All I have to say is that from where I'm standing, the future is now.
Hayley Thomas practices yoga but is not really a "yoga person" at hthomas@newtimesslo.com.